Each year, Mason Stevens will publish an Annual Report for each account on the platform. We also send a communication directly to you once these reports are available.
Investment accounts – Annual Report, posted before 30th September for the prior Financial Year
Super and Pension accounts – Annual member Statement, posted before 30th December for the prior Financial Year.
Locating your Annual Report
Under the Account menu on the left-hand navigation panel, click Reports and documents.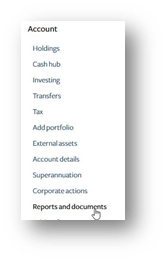 2. Once there, click the Annual report tab in the horizontal navigation bar.

3. Click 'Complete' next to the report you wish to download.